G'day Kids, I've been away from the blogoverse for a week. Soooo.... Here are 17 things that have happened since the last time we met:
1) Stayed at Row's parents' place for long weekend (+ her dad's bday)
2) Went to cafe at Erina and sat at TABLE 17 (guess the cafe)
3) 2nd hand book shop at Gosford Primary School - bought
Uncle Tom's Cabin
and a record for Row
4)
Dan
and I lost in tennis to 2 old men
5) Went to cafe in another place and sat at TABLE 17 (guess the suburb)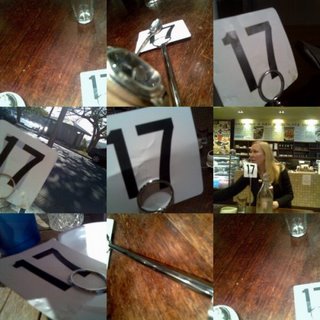 6) Bummed around at home for a few days - watched
GOAL
3 times!
7) Listened to
Tim Keller
talk on Justice
8) Read the
Bible
(not all of it... just bits)
9) Bought
The Twilight of Atheism
from cheap (1st hand) bookshop in Canberra
10) Reminded that over 100,000 Australians have died in wars (
War Memorial
)
11) Walked out of
National Museum
cos Row didn't like the intro video
12) Visited
Crossroads Christian church
in Canberra
13) KFC for lunch!
14)
Brother
and sister-in-law had a baby boy
15) Row left her handbag at hospital
16) Dinner in Bondi
17) Got to hold baby when picking up Row's handbag
17 different people must respond to this post or I will quit blogging...